Comentarios (38)
After difficult months, the Host fair was held in Milan from October 22 to 26, 2021, to try to reactivate the universe of professional hospitality.
Frucosol was located in Hall 24 Stand F67, as part of the Spanish pavilion, at Fiera Milano Exhibition Center, Rho (Milan) Italy.
Frucosol participated within the Horeca Equipment from Spain brand, framed within the Sectorial Plan for the Internationalization of Hospitality Equipment 2021, prepared by the AFEHC in collaboration with ICEX Spain Export and Investments.
The 42nd edition of the fair specialized in hospitality equipment certifies it as the most relevant event in the sector worldwide. At Host Milano, the largest international professional hospitality fair, innovation does not stop. The event has revalidated its role as a center of innovation, starting with solutions designed to ensure compliance with social distancing standards and protocols.
Florentino Deza and Víctor Martínez were in charge of attending to all the visitors who came to the Frucosol stand. They have valued this new participation in the fair as highly positive. The team stated: "The presence of Frucosol at the fair allows a return to normalization, and to continue promoting its internalization, our great growth engine. "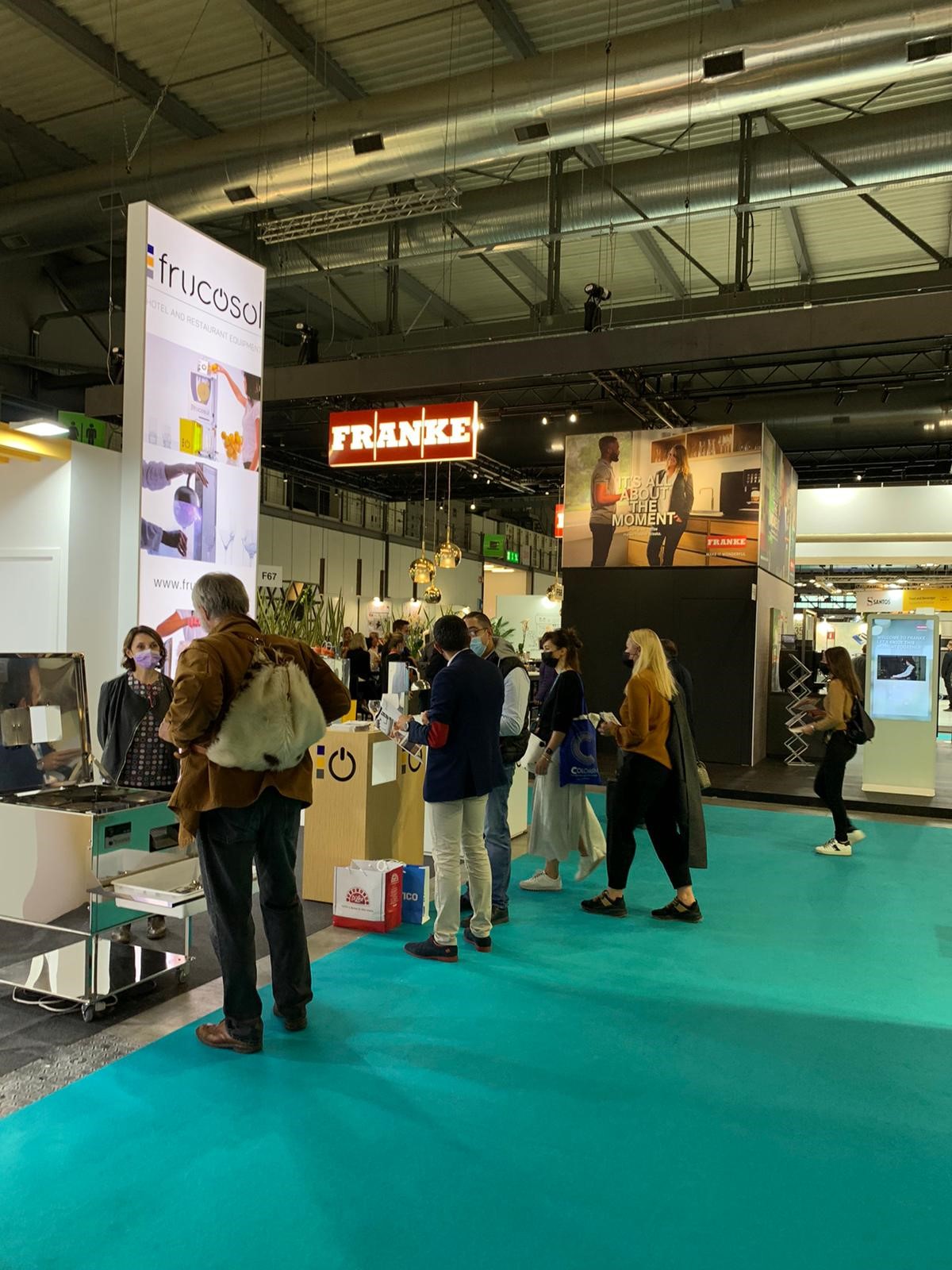 They have shared five days with a large influx of visitors and customers who have come to share impressions and see all our equipment on site. They highlight the great interest they have shown in our machinery and the great professionalism of the attending public.
Host Milano is the world's leading fair dedicated to the world of catering and hospitality. In its 2021 edition, the new technological solutions aimed at promoting the reactivation of the sector took center stage. State-of-the-art devices and applications related to the IoT (Internet of Things - Internet of Things) could be seen in this room. In addition, contactless solutions related to artificial intelligence (AI) are now present in different areas: from the menus of premises and restaurants, to the possibility of analyzing the Big Data of customers to organize work in the kitchen. The challenge is to understand how artificial intelligence can respond to the needs of the hospitality industry in the new normal.
Visitors to Host enjoyed seminars, contests, culinary demonstrations with the best chefs and professionals in the world of coffee and masters of gelato, chocolate and pastry, in the 2021 edition of Host Milano a reactivation menu was also held with hundreds of events.
We highlight that Fiera Milano for the reactivation of the sector has created a platform dedicated to the entire horeca community: exhibitors, visitors, buyers, journalists, bloggers and opinion leaders.
Fiera Milano Platform is going to create a great ecosystem of services, which includes reinforcing the content of the fair's sites and social networks; the synergy between physical and digital meetings (webinars, above all), and the preparation of catalogs for the presentation and sale of products.